Categories
Archives
Recent Posts
Woodard, Emhardt Hosts Ball State's Entrepreneurship Program 2011 E-Day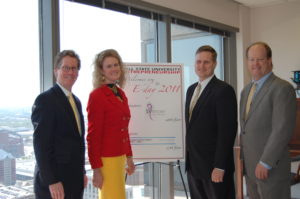 Demonstrating our continued support of Indiana's entrepreneur community, Woodard, Emhardt hosted Ball State University's Entrepreneurship Program E-Day ("Evaluation Day") on May 3, 2011. Partners Dan Lueders, Holly Banta, TJ Cole, and Chuck Schmal also participated in E-Day as judges. More information about the event can be found in our previous blog post.
Ball State's Entrepreneurship Program has been a top ten nationally ranked program for about a decade and was recently ranked as the first of "10 College Classes that Impact the Outside World" by U.S. News & World Report. More information about Ball State's Entrepreneurship Program can be found here.
During E-Day, seniors majoring in entrepreneurship presented their business plans to a panel of judges who decide whether a student passes or fails the program. A key feature of E-Day is this final pass or fail review that requires seniors to put their degrees on the line as their business plans are scrutinized by a group of top business leaders. If they pass, they receive their diplomas; if they fail, they are required to either return the next year with a revised plan or to seek another degree. Many of the business plans presented by the students at E-Day concerned technological innovations, such as a thermite torch that is able to cut through any metal within seconds, a simulated skin product used for practicing surgical skills, a medical computer cart, a laser system used to extricate victims from vehicular accidents, and a communication system for tracking students on school buses.
Woodard, Emhardt is proud to sponsor and promote the entrepreneurial spirit in Indiana and throughout the Midwest.