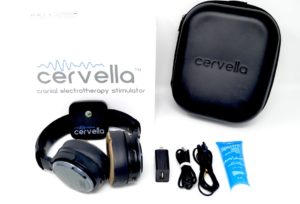 Bart Waclawik, founder and owner of Innovative Neurological Devices, is working with Woodard attorney, Christopher A. Brown, to protect his innovative medical device, the CERVELLATM Cranial Electrotherapy Stimulator.
CERVELLATM is an FDA-cleared medical device for treatment of anxiety, depression, and insomnia and is the world's first and only Cranial Electrotherapy Stimulator with patent-pending proprietary conductive treatment electrodes that are integrated into a stereo headset allowing patients to receive treatment during study, work, or play. CERVELLATM is also the first and only CES device that is managed through an App on a smart device.
After witnessing a close family member struggle with existing products, Mr. Waclawik was inspired to create a product that would fit seamlessly into a patient's lifestyle. The patent-pending CERVELLATM headphones allow patients to inconspicuously receive treatment from any location.
For more information on the CERVELLATM Cranial Electrotherapy Stimulator, please visit: CERVELLATM
To read the article published in the Indianapolis Business Journal, visit: IBJ