Categories
Archives
Recent Posts
Woodard, Emhardt Makes Donation to Improve Patent Searching Terminals at Purdue University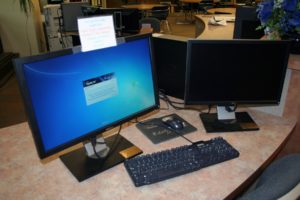 Woodard, Emhardt recently made a donation to enhance the PubWEST patent searching terminals at the Siegesmund Engineering library at Purdue University.  The PubWEST system is only available to the public at designated Patent and Trademark Depository Libraries (PTDLs) and is a valuable inventor resource which is not otherwise available on the internet.  Purdue's library is one of two designated PTDLs in Indiana, the other being located at the Indianapolis Marion County Public Central Library located in downtown Indianapolis. 
As a designated public depository library, Purdue's engineering library provides free public access to the PubWEST system, a web-based examination search tool used by patent examiners at the US Patent and Trademark Office (USPTO), in addition to a variety of other patent and trademark resources, which in turn is a great resource for Indiana's entrepreneurs and inventors.  Please visit the Siegesmund Engineering Library link for more information including library hours. 
Woodard, Emhardt is proud to promote and support inventors, businesses, and the entrepreneurial spirit in Indiana and throughout the Midwest.