June 3, 2019
On Thursday, May 30, 2019, Firm attorneys celebrate May in Indy racing at Speedway Indoor Karting.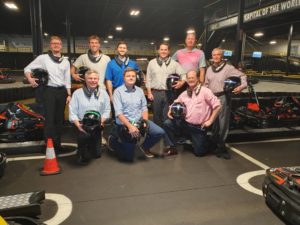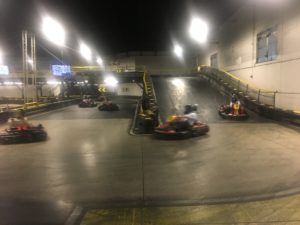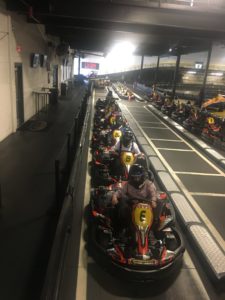 ---
April 29, 2019
Congratulations to the team from Woodard, Emhardt, Henry, Reeves & Wagner who were crowned the Indianapolis Bar Foundation (IBF) Trivia Night Champions and took home the coveted IBF Trivia Trophy! The money raised at this annual IBF Trivia Night event supports the Foundation's crucial role in helping to solve the legal-related problems in the Indianapolis community.
The victors, Christopher Brown, Chuck Schmal, Josh Astin, Andrew Nevill, Blake Hartz, Mark Burroughs, and Bob Jalaie, are pictured here with Trivia emcee, Adam Christensen (bottom row, center).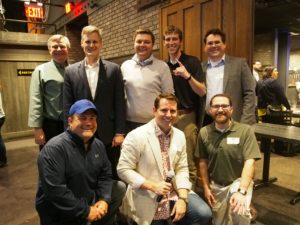 ---
January 7, 2019
The Firm is pleased to announce that Charles Reeves and Vincent Wagner have been recognized as named partners of the firm, which has changed its name to Woodard, Emhardt, Henry, Reeves & Wagner, LLP.  Woodard Emhardt also congratulates Matthew Gardlik, Ph.D., Joshua Astin and Blake Hartz who have been elected to the firm's partnership and is pleased to share that John McNett will continue with the firm as Senior Counsel.
The firm name change recognizes Mr. Reeves' and Mr. Wagner's significant contributions to the firm and outstanding service and results they have achieved for our clients over the years. Their leadership will help ensure the continued success of the firm which celebrates its 140thAnniversary this year.
Mr. Reeves joined the firm in 1976 and has represented a broad range of clients from individuals and start-up businesses to national and international corporations. His experience includes litigation, domestic and international prosecution, strategic planning and managing IP portfolios, and evaluating validity, coverage and right-to-use issues in connection with opinion, transactional and other business-related work.
Mr. Wagner joined the firm in 1978 and has represented clients in a wide range of matters, including patent, trademark, copyright, and trade secret litigation, patent interference and trademark oppositions, foreign and domestic patent and trademark prosecution, counseling and opinions, mediations and settlement negotiations, and licensing.
Dr. Gardlik is extensively involved in all aspects of patent prosecution and litigation.  He has successfully prepared and prosecuted inventions in a wide variety of technologies including chemical, pharmaceutical, medical device, and diagnostic technologies. His litigation experience includes the successful defense of a retaliatory trade secret misappropriation claim and he continues to represent the plaintiff in the earlier-filed patent infringement suit including in the successful defense of thirteen associated Inter Partes Review proceedings at the USPTO.
Mr. Astin specializes in U.S. and foreign patent preparation and prosecution for a variety of technologies including: tissue engineering, stem cells, implantable medical devices, and genetic sequence listings. His patent experience includes patentability analysis, freedom to operate analysis, as well as licensing and agreement work.
Mr. Hartz focuses his practice on intellectual property litigation in both federal court and administrative proceedings at the USPTO, having represented clients in patent, trademark, and trade secret cases in courts across the country, various trademark opposition/cancellation actions, and more than a dozen patent Inter Partes Review proceedings. He has worked on all stages of disputes, from pre-filing investigations through appeal, and also maintains active patent and trademark prosecution dockets, including serving as U.S. counsel for overseas companies and attorneys.
The firm congratulates our new named partners and our newest partners and looks forward to building on Woodard Emhardt's 140 years of protecting and defending client's creative and intellectual assets.
---
September 26, 2014
The USPTO has announced that it will extend the After Final Consideration Pilot 2.0 (AFCP) Program through September 30, 2015. The program was previously scheduled to expire on September 30, 2014. The PTO further announced that Examiners will begin sending out a specialized AFCP 2.0 form (PTO-2323) which is designed to clearly indicate how the AFCP submission was treated by the Examiner and contain an interview summary if applicable.
The AFCP program allows Examiners additional time to search and consider applications after a final rejection has been issued. Applicants must meet certain requirements when filing a response to final in order for the response to be eligible for AFCP consideration. AFCP 2.0 requires that Examiners use the additional time to schedule and conduct an interview to discuss the response if it does not place the case in condition for allowance.
The AFCP program is designed to reduce the time and costs spent prosecuting patent applications. The attorneys at Woodard, Emhardt, Moriarty, McNett, & Henry LLP have developed strategies for utilizing the AFCP program in a variety of situations to benefits to our clients.
---
November 15, 2013
35 U.S.C. § 154(b) allows for extension of patent term for design and utility patents filed after May 29, 2000. The statute provides for patent term adjustment for delays caused by the USPTO. "A Term" adjustments result from untimely responses from the USPTO, e.g. 14 month deadline for a first Office Action, and 4 month deadline for subsequent actions. "B Term" adjustments result from applications pending for more than 3 years. "C Term" adjustments result from delays due to interferences, secrecy orders, and appeals. The statute provides for one day of patent term adjustment for each day of delay caused by the USPTO, any delay caused by the applicant or overlap in terms is subtracted from the final term adjustment.
Recently, a split has arisen within the District Court for the Eastern District of Virginia regarding the calculation of B Term adjustment when a request for continued examination (RCE) has been filed. 35 U.S.C. § 154(b)(1)(B) guarantees no more than 3-year application pendency, providing for patent term adjustment in cases where prosecution extends beyond 3-years. However, the statute includes some limitations, including "any time consumed by continued examination of the application requested by the applicant under section 132(b)." The USPTO has interpreted the statute to require that patent term should not be extended, under B-term, for additional time spent during prosecution after filing of an RCE.
In Excelixis I, Exelixis, Inc. v. Mr. David Kappos , (E.D. Va. November 1, 2012), Judge Ellis found that when an RCE is filed after the 3-year period, the RCE should not have any effect on calculating B-Term adjustment. Following Excelixis I an application will accrue B Term adjustment every day following the 3-year anniversary of filing.
In Excelixis II, Exelixis v. Kappos (E.D. Va. 2013) Judge Brinkema found that "any time consumed by continued examination of the application requested by the applicant under section 132(b) (via the filing of an RCE) does not count toward that three-year period." Following Excelixis II, an application will accrue B Term only during the period between the 3-year anniversary of filing and the date on which an RCE is filed.
The USPTO has appealed Excelixis I, the case is pending before the Court of Appeals for the Federal Circuit.
---
January 28, 2013
---
January 14, 2013
Woodard, Emhardt, Moriarty, McNett, and Henry LLP is proud to sponsor the FIRST Robotics Crossroads Regional, an annual tournament held at Rose-Hulman Institute of Technology.  William McKenna, a partner at the firm, will also be a judge in the competition.  The event will be held April 4th through 5th at the Rose Hulman Sports and Recreations Center.
The event features teams of high school students who work alongside engineers and other industry professionals to design, build, and program a robot to compete against robots from other teams in a sports-like game.  Teams can win awards for creating business plans, developing cohesive team "brands," cooperating with other teams, forging suitable initiatives, and enhancing civic awareness and passion for science, technology, engineering, and math.
---
January 3, 2013
With confetti still lingering in the air Congress passed H.R. 6621 which includes many technical amendments to the America Invents Act.  The passing of H.R. 6621 was not without a small amount of controversy as a section dealing with still pending and unpublished pre-GATT applications was ultimately removed from the Bill.  As originally drafted, the Bill would have altered the term for such applications still pending one year from the Bill's implementation date, effectively killing a majority of pre-GATT applications.  The section was first amended to require only that a report on still-pending pre-GATT applications be sent to congress including the inventor identities, before the Senate removed the section completely in the version ultimately passed by both houses. Some highlights of the Bill that did pass are discussed below.
 Dead-Zones: H.R. 6621 allows inter partes reviews to be filed at any time for issued patents with effective filing dates before March 16, 2013.
 Oath or Declaration: H.R. 6621 allows for an oath or declaration, substitute statement, or assignment, to be filed "no later than the date on which the issue fee for the patent is paid."
 Patent Term Adjustment: H.R. 6621 clarifies that patent term adjustment accumulates only on "commencement of the national stage under section 371 in an international application."  The Bill also requires that patent term adjustment be calculated with the issuance rather than at the notice of allowance.  Finally, the Bill clarifies that patent term adjustment decisions may only be challenged by filing in the Eastern District of Virginia.
 Improper Applicant: H.R. 6621 eliminates 35 U.S.C. 373 which restricts who may file international PCT applications at the USPTO.
 Patent and Trademark Fee Allocation: H.R. 6621 eliminates the requirement that patent fees be used to cover "administrative costs of the Office relating to patents" and a similar restriction relating to trademark fees.
 Derivation Proceeding: H.R. 6621 alters the timing for filing a petition to institute a derivation proceeding and includes a definition of the term "earlier application."  The Bill also clarifies that interferences declared after September 15, 2012 are subject to the pre-AIA provisions of the Patent Act governing the Board of Patent Appeals and Interferences and appeals to the Court of Appeals for the Federal Circuit.