June 3, 2019
On Thursday, May 30, 2019, Firm attorneys celebrate May in Indy racing at Speedway Indoor Karting.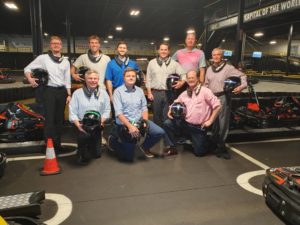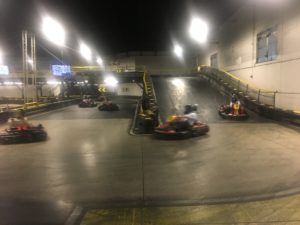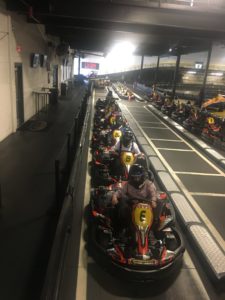 ---
May 21, 2019
Firm attorneys, Andrew Nevill, Blake Hartz, Chuck Reeves and Bill McKenna, participate in the Third Annual USO of Indiana Golf Outing on May 17th, 2019 at The Legends Golf Club in Franklin, Indiana. The annual event helps the USO of Indiana provide programs at no cost to military service men and women.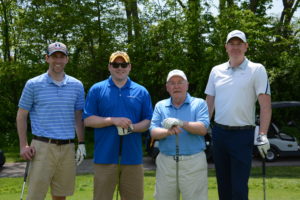 ---
April 29, 2019
Congratulations to the team from Woodard, Emhardt, Henry, Reeves & Wagner who were crowned the Indianapolis Bar Foundation (IBF) Trivia Night Champions and took home the coveted IBF Trivia Trophy! The money raised at this annual IBF Trivia Night event supports the Foundation's crucial role in helping to solve the legal-related problems in the Indianapolis community.
The victors, Christopher Brown, Chuck Schmal, Josh Astin, Andrew Nevill, Blake Hartz, Mark Burroughs, and Bob Jalaie, are pictured here with Trivia emcee, Adam Christensen (bottom row, center).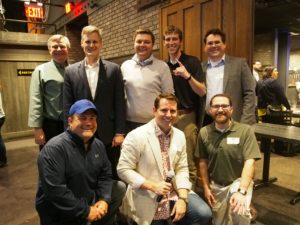 ---
April 25, 2019
Bill McKenna quoted in The Information, "Amazon Tests Program to Combat Patent Infringement."
Amazon is testing a new program that allows merchants on its marketplace who are victimized by cheap, patent-violating knockoffs to get them removed in a few months for just a few thousand dollars or less—much faster and cheaper than a typical legal process.
"When you're looking at counterfeits, it's easy to tell that a Louis Vuitton purse is covered by a Louis Vuitton trademark," said William McKenna, an intellectual property lawyer at the firm Woodard, Emhardt, Henry, Reeves & Wagner in Indianapolis. "When you're talking about patent infringement, it's not so simple."
Mr. McKenna said Amazon's new utility patent program means sellers with the patents don't have to file lawsuits against many individual companies or wait as long as a year for an order to handle them all together, which he described as subjecting sellers to "death by a thousand cuts."
---
April 25, 2019
Charlie Meyer was quoted in The Indiana Lawyer article, "Say What?: Trademark Case Tests 'Scandalous,' 'Immoral' Standards."
What's more, the scandalous and immoral clause seemingly gives the government permission to treat some businesses differently than others based on the trademark they choose to use, said Charlie Meyer, a partner at Indianapolis IP firm Woodard, Emhardt, Henry, Reeves & Wagner, LLP. But such unequal treatment would seem to be unconstitutional, Meyer said.
"Is it the government's job to treat people differently on this basis?" Meyer said, pointing to a question he thinks is an important issue for the justices to resolve. Further, if Tam stands for the proposition that the government cannot determine what is "disparaging," then Meyer questioned why the government would still be allowed to decide what is scandalous or immoral.
---
April 18, 2019
When registering a trademark, the Patent and Trademark Office requires the submission of a specimen to show that a trademark is being used in interstate commerce.  It is often tempting to simply submit a screenshot of a webpage showing the trademark and the products associated with that trademark as a specimen.  However, as shown in a recent Federal Circuit decision made precedential, care must be taken when using a webpage as a specimen for goods associated with a trademark to ensure that the webpage is likely to be acceptable.
In the case, In re Siny Corp., 2019 U.S. App. LEXIS 10499 (Fed. Cir. Apr. 10, 2019), the Applicant filed an application for the mark CASALANA for a knit fabric used to make outerwear, gloves, and apparel.  The specimen submitted for this trademark was a screenshot of a webpage that included the trademark along with a picture and a description of the fabric, as well as a phone number and an email address to contact for sales information.  The Federal Circuit affirmed the Examining Attorney and the TTAB's decision to refuse registration, stating that the webpage was just advertising material and failed to show use of the mark in commerce for the listed products.  It is important to note that this decision specifically pertains to a specimen for goods and that webpages are more readily accepted as specimens for services.
A trademark is used in commerce when it is placed directly on goods or placed on the containers, displays, tags or labels associated with the goods.  A trademark included on a webpage may qualify as a "display" associated with goods shown on the webpage.  However, a webpage simply advertising the goods used in connection with the trademark is not sufficient to qualify as a display, and is therefore not an acceptable specimen.  In order to be an acceptable specimen, the webpage must act as a point of sale location for the products.
As shown by the decision in Siny, showing only a phone number or an email address as contact information for ordering products associated with the trademark may not be enough to make the webpage a point of sale location.  Instead, a webpage submitted as a specimen should either make the goods available for purchase directly through the webpage or display additional information other than just contact information that would be considered essential to a purchasing decision.  Examples of this additional information include prices or a range of prices for the goods, sizing information, the quantity of the goods that may be ordered, how to pay for the product, and how the product will be shipped.
This decision by the Federal Circuit doesn't mean that webpages cannot be used as a specimen for a trademark application covering goods.  Instead, an Applicant should make sure that when using a webpage as a specimen for a trademark application, the webpage includes as much information as possible about the nature of the goods and includes specific information on how to purchase the goods associated with the trademark.  Following these guidelines should lead to an acceptable specimen.
---
April 9, 2019
 The law firm is pleased to announce that partner, Daniel J. Lueders, has been named to America's Top 100 High Stakes Litigators® for Indiana in 2019. Membership to this group of 100 attorneys is awarded to less than 0.5 percent of litigators in the United States.
Membership among America's Top 100 High Stakes Litigators® is meant to identify and highlight the accomplishments of the nation's most esteemed and skilled litigators in high stakes legal matters. Dan was selected as an honoree for the second year in a row based on his role as lead counsel in legal matters with at least $2,000,000 in alleged damages at stake or with the fate of a business worth at least $2,000,000 at stake (i.e. bet-the-company litigation valued in excess of $2,000,000). Further assessment for this distinction included a review of Dan's professional experience, legal achievements, significant case results, peer reputation, and community impact. As a final measurement for selection, Dan's work was evaluated and ranked based on the America's Top 100 program's proprietary analysis.
Dan has served as lead trial counsel for both plaintiffs and defendants in both bench trials as well as jury trials. To protect their interests in multi-million dollar cases, clients rely on Dan to build and manage their litigation teams. He has served as lead counsel for appeals of intellectual property cases and/or given oral argument before the Indiana Supreme Court, the United States Court of Appeals for the Federal, Seventh and Ninth Circuits. Dan has also served as an expert witness in patent and trade secret lawsuits.
ABOUT AMERICA'S TOP 100 HIGH STAKES LITIGATORS
It is the mission of America's Top 100 LLC to recognize annually and on a lifetime basis the most qualified and accomplished professionals in various fields of practice, including attorneys, doctors, dentists, realtors, accountants, engineers, and architects (among other professionals). Membership in each specific category is by invitation-only after a multi-phase selection process including third-party research and statistical analysis of a candidate's professional experience, achievements, significant results, community impact, peer reputation, consumer satisfaction, and other proprietary factors specific to each profession. Membership is limited to the Top 100 professionals from each state* in each category of practice who best exhibit excellence and the highest ethical standards in their respective professions. With these high standards, less than 1% of professionals in the United States will be selected for membership as one of America's Top 100™ in their profession. For more Information visit: www.top100highstakeslitigators.com
*Southern California, Northern California, Southern Texas, Northern Texas, Southern Florida, Northern Florida, New York City, Upstate New York, and Washington D.C. are all separated into individual regions due to the significantly greater number of attorneys in each of those regions.
---
April 8, 2019
On behalf of The Center for International Legal Studies, Steve Zlatos spent two weeks at Brest State University in Brest, Belarus as a guest lecturer on the American Legal System and Intellectual Property Law.
The Center for International Legal Studies – CILS/the Center – is a law research, training, and teaching institute, established and operating as a non-profit, public interest society under Austrian law. Its essential purpose is to promote and disseminate knowledge among members of the international legal community with 5,000 lawyers worldwide having been recognized for their contributions to CILS projects.
Through its Senior Lawyer Visiting Professors Program, the Center places experienced practitioners in visiting professorships at institutions in Eastern Europe, Russia and former Soviet republics, China, India, and Myanmar. Almost 400 senior lawyers have taken up almost 900 appointments since the program began in 2006.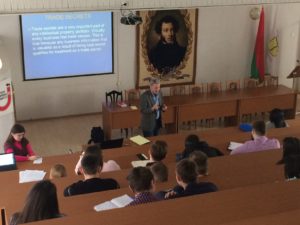 ---
March 12, 2019
The Firm is pleased to announce that Members of the National Czech & Slovak Museum & Library (NCSML) elected Steve Zlatos to a three-year term as a new member of its Board of Trustees. The election took place March 5 at the NCSML's annual meeting of the membership.
The National Czech & Slovak Museum & Library in Cedar Rapids, Iowa, is a museum that celebrates life:  Czech life, Slovak life and American life. The Museum seeks to inspire people from every background to connect to Czech and Slovak history and culture. Through extraordinary exhibitions and experiences, the Museum tells stories of freedom and identity, family and community, human rights and dignity connecting yesterday with today and tomorrow. The Museum honors those who immigrated to America and worked hard, contributing their skills and vision to the formation of our nation.
Steve represents inventors in patent litigation in federal courts throughout the United States. In 2003, Steve was appointed Honorary Consul for the Slovak Republic. His consulate area includes the states of Indiana, Kentucky, and Tennessee. He has traveled extensively throughout Central Europe, speaks Slovak, and is active in assisting Indiana companies in developing business ties there.
---
March 4, 2019
On March 4, 2019, the U.S. Supreme Court issued a decision regarding the requirement for copyright registration prior to filing a lawsuit for copyright infringement. In the unanimous opinion authored by Justice Ginsburg, the Court settled a split in Circuit Court decisions regarding whether the "registration . . . has been made" requirement under 17 U.S.C. §411(a) is satisfied merely by the filing for copyright registration or is only satisfied by the Copyright Office's act of granting registration. The Court, settling on the latter, held registration occurs—and a copyright claimant may commence an infringement suit—when the Copyright Office registers a copyright. And, upon registration of the copyright, the copyright owner may recover for infringement that occurred both before and after registration.
While there are some exceptions to this rule (e.g., a copyright owner who is preparing to distribute a work of a type vulnerable to predistribution infringement—e.g., a move or musical composition—may apply to the Copyright Office for preregistration. §408(f)(2)), it is now perhaps more important than ever to register your copyright works early. Early registration provides not only evidence as of your date of possession of the work but also can expedite the filing of an enforcement lawsuit against alleged infringers.
https://d.casetext.com/api/print/document/fourth-estate-pub-benefit-corp-v-wall-streetcom-5?includeHighlights=false&concat=Fourth%20Estate%20Pub.%20Benefit%20Corp.%20v.%20Wall-Street.com.pdf
« Newer Posts
—
Older Posts »