Categories
Archives
Recent Posts
May 2011 Newsletter
   Patents
---
Federal Circuit Hears Oral Arguments in the Myriad Gene Patent Case
On April 4, 2011, the U.S. Court of Appeals for the Federal Circuit heard oral arguments in Association for Molecular Pathology, et al. v. USPTO, Myriad Genetics, et al. This case involves the controversial topic of whether human genes qualify as patentable subject matter.
---
I Started Selling My Invention; Can I Still Get a Patent?
Clients often want to know if they can file a patent application after they started selling, offering for sale, or telling the public about their invention. In most circumstances, the answer is 'yes'; however, it is not without some caveats.
---
112th Congress Becomes the Fourth To Attempt to Tackle Patent Reform
The 112th Congress, under the direction of Senator Patrick Leahy (D – Vt), is preparing to again consider a significant reformation of the U.S. patent system.  Numerous attempts have been made to reform the patent system since 2005, with most failing to reach a final vote.  Following up on these attempts, the Senate Judiciary Committee approved Senate Bill 23, which will, unsurprisingly, be known as the Patent Reform Act of 2011.
---
Patent Office Gives Provisional Filers Extra 12 Months to Pay Certain Fees When Filing Non-Provisional Application
The United States Patent and Trademark Office (USPTO) has recently implemented the Extended Missing Parts Pilot Program (Pilot Program) which allows an applicant to request a 12-month time period to pay certain fees and to reply to a Notice to File Missing Parts of a non-provisional application.
---
Patent Office Publishes Proposed Revisions to Ex Parte Appeals Rules

The United States Patent and Trademark Office (USPTO) has published a notice containing proposed revisions to the rules governing ex parte appeals before the Board of Patent Appeals and Interferences.
 
---
USPTO Provides Interim Guidance for Determining Patent Eligible Subject Matter in View of Bilski Decision

The United States Patent and Trademark Office (USPTO) has provided interim guidelines for determining subject matter eligibility under 35 U.S.C. §101 for process claims in view of the United States Supreme Court's 2010 decision in Bilski v. Kappos.  The guidelines provide additional factors to aid in the determination of whether a method which fails the machine or transformation test is patentable or vice versa.
---
Trademarks
---
Could Your Business Benefit From a Federal Trademark Registration?
Trademarks are often the most valuable piece of a business's intellectual property portfolio.  For example, consider the marketing value of the marks Coca-Cola® and the Nike swoosh.  The potential tremendous marketing value of trademarks combined with substantial legal benefits make obtaining a federal trademark registration a wise move for most businesses. 
---
Building the Strength of Your Trademark
So, you can rest easy now that you have a federal trademark registration, right?  No! 
Federal trademark registrations provide many protections and advantages to trademark owners.  Nevertheless, even with federal trademark registrations in hand, trademark owners will benefit from active efforts to build and maintain the strength of their trademarks.
---
Litigation
---
Seventh Circuit Court of Appeals Proposes New Standards For Awarding Attorneys' Fees in Trademark Infringement Suits

15 U.S.C. §1117(a) allows attorneys' fees to be awarded to prevailing parties in federal Lanham Act suits (brought primarily for trademark infringement) — but only in "exceptional cases."  So what constitutes an exceptional case?  Are the various Circuit courts in agreement?  Richard Posner, writing on behalf of the Seventh Circuit Court of Appeals, attempted to answer these questions in Nightingale Home Health Care, Inc. v. Anodyne Therapy LLC, No. 10-2327 (7th Cir. Nov. 23, 2010).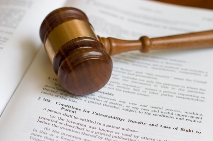 ---
 Tips for Mitigating Claims of Inequitable Conduct
Recent decisions by the Federal Circuit have affirmed findings of inequitable conduct based on a failure of the applicant to cite material references that were in the applicant's possession and not cumulative of other previously-cited references.  The result of the inequitable conduct findings were that the patents-in-suit were rendered unenforceable.
---
Other Announcements
---
Indiana Super Lawyers
Congratulations to Woodard, Emhardt partners Tom Henry, Spiro Bereveskos, Dan Lueders and Holly Banta for being named Super Lawyers in The Indiana Super Lawyers, 2011 Edition
---
Woodard, Emhardt Hosts Ball State's Entrepreneurship Program 2011 E-Day
Demonstrating our continued support of Indiana's entrepreneur community, Woodard, Emhardt hosted Ball State University's Entrepreneurship Program E-Day ("Evaluation Day") on May 3, 2011.
Partners Dan Lueders, Holly Banta, TJ Cole, and Chuck Schmal also participated in E-Day as judges.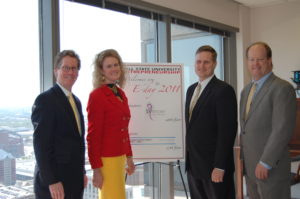 ---
   Woodard, Emhardt Law Clerk Reaches National IP Moot Court Competition
Woodard, Emhardt law clerk Mike Morris recently participated in the national competition of the Giles Sutherland Rich Intellectual Property Moot Court Competition. Mike's team won the Chicago regional competition, earning a spot in the national competition for the top 8 teams from around the country. The national competition was held at the Federal Circuit courthouse in Washington, D.C. Mike has a background in mechanical engineering and will be joining the firm as an associate attorney in August, 2011. Congratulations Mike!
---
 Woodard, Emhardt Partners Chair Event To Support The Indianapolis Zoo
Partners Holiday W. Banta and T.J. Cole were once again the chairs of the 13th Annual Elegant Vintages International Wine Auction. The event was held on Saturday, March 19, 2011, at the Conrad Hotel in downtown Indianapolis and raised over $125,000 for the Indianapolis Zoo. As always, event proceeds directly benefit the Indianapolis Zoo and its conservation and community programs. Many other Woodard Emhardt members volunteered at the event. Thank you, Holly and T.J., for your great efforts in supporting the Zoo!
---